Here Is Antarctica (Web of Life #7) (Paperback)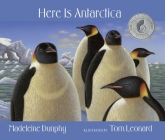 $9.95

Usually Ships in 1-5 Days
Other Books in Series
This is book number 7 in the Web of Life series.
Description
---

Using cumulative verse, this book introduces children to the penguins, whales, seals, fish, icebergs and sea ice that make up Antarctica's ecosystem, while giving young readers an understanding of the interdependency of life in this unique environment.
In this striking picture book, Madeleine Dunphy combines lyrical verse with repetition to demonstrate the food web in Antarctica. Tom Leonard's gorgeous illustrations, from the flash of orange on a penguin's beak to iridescent icebergs jutting from the sea, capture a wondrous miracle; the circle of life. HERE IS ANTARCTICA educates as it entertains, inspiring children to explore this fascinating ecosystem page by page.
Other Books in the Series: HERE IS THE AFRICAN SAVANNA, HERE ISTHE ARCTIC WINTER, HERE IS THE CORAL REEF, HERE IS THE SOUTHWESTERN DESERT, HERE IS THE TROPICAL RAIN FOREST, and HERE IS THE WETLAND. Free downloadable activities can be found on the publisher's website.
Praise For…
---
Named best children's picture book - Nautilus Book Award

This is a great book. It details the food web of Antarctica in songlike prosereminiscent of The House that Jack Built." The paintings are beautiful, realistic,and full of detail. The final two pages identify the illustrated species and give more detailed information on Antarctica, including how icebergs are formed andthreats to the continent. My three-year old daughter and I both love this book. Iwill be on the lookout for other Here Is..." books in this series."
Science Books & Films

A rhythmic, cumulative text and detailed acrylic paintings emphasizing the pinks, blues and grays of the icy sea and sky introduce the relationships among animals in the Antarctic ecosystem. Each double-page spread adds another animal: two species of seals, orcas, krill, petrel, silverfish, skua and three species of penguins. Like other books in the Web of Life series, this concludes with a brief explanation of the area and the animals mentioned (allowing the careful reader to distinguish the different seals and penguins illustrated). [T]he familiar, House-that-Jack-Built pattern will appeal to young listeners, and the repetition isa boon for early readers. Teachers will welcome this appealing introduction...."
Kirkus Reviews

Realistic full color illustrations on luxurious spreads grace this ecologicalstory" of Antarctica's wildlife. Written in an expanding verse narrative thatechoes the rhyme of the house that Jack built," the book's text vividly captures the close relationships of orcas, penguins, and seals, as well as petra, skua,silverfish and krill. The progression provides readers a dramatic pictorialaccount of this delicate and important food chain."
Kid Lit Saves World