A Horse Named Tuni (Paperback)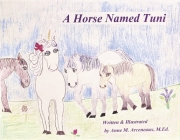 $23.92

Usually Ships in 1-5 Days
Description
---
Tuni is a horse who is born beautiful and vibrant. She is told this often by all who meet her and Tuni believes this is who she is. Tuni lives up to being beautiful inside and out, but there is so much more to Tuni. Eventually, her friends make her realize the other strengths and light inside Tuni.
About the Author
---
Anne Arceneaux is a native of New Orleans, Louisiana and is an experienced educator who started her teaching career in the Houston, Texas area, where she also worked in the oil industry. Anne is currently the STEM facilitator at an all female, faith-based, private school in New Orleans. Anne's mission in life is to empower young women to know themselves and believe they can reach their highest potential.
Along with Tuni, this author is coming out with a series called, "Gifted Glenn."
Not only does Anne write for children, she has poetry and stories for adults.