How to Build an Iglu & a Qamutiik (English/Inuktitut): Inuit Tools and Techniques, Volume One (Paperback)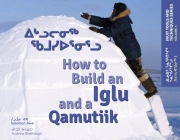 $9.95

Usually Ships in 1-5 Days
Description
---
The iglu, a traditional winter shelter built in the Arctic for centuries, is a vital part of Inuit culture. The qamutiik, a traditional sled used for hunting, is an essential tool whose versatility and dependability have allowed it to endure over time.
In How to Build an Iglu & a Qamutiik, Solomon Awa provides thorough how-to instructions on building iglus and qamutiiks, along with general background information on their construction and importance to survival. Complete with detailed, clear illustrations, this valuable resource will teach readers to build these structures that are so central to Inuit culture and tradition.

About the Author
---
Solomon Awa was born in a sod house near Iglulik on November 2, 1959. From a young age, he was curious about everything around him. He learned to sew traditional items such as sealskins from his late mother, Appia Awa. His late father, Mathias Awa, was an excellent carver, especially with ivory, and one time he made a harpoon from caribou antlers in one night! Solomon learned to carve from him. Solomon loves to tell the stories that he learned from his father. He does this at schools, and also had the opportunity to go to Kaotokeno, Norway, to tell some of these stories. He teaches traditional knowledge at Nunavut Arctic College and works for the Qikiqtani Inuit Association.Andrew Breithaupt is a freelance illustrator and a former electronic media instructor in the illustration program at Sheridan College.