You are invited! This Sunday at 12pm - JOIN US!
He's BACK! Reginald, our favorite friendly zombie! We've waited two years, and we can't wait to welcome Joe McGee back to our shop for the launch of the follow-up to Peanut Butter & Brains, Peanut Butter & Aliens! No actual peanut butter in this shop, but be prepared for good o'le Zombie fun! Joe will of course read his books for us, and we will celebrate the launch with some Zombielicious treats!
Join us at 12pm - we will get started reading shortly there after, followed by a bit of fun! Pre-order your copy now, and have it waiting for you - AHEAD of the release date on 8/29!
Joe McGee holds an MFA in writing for children and young adults from the Vermont College of Fine Arts. His fiction and poetry have been published in both print and online journals, and he is the author of Peanut Butter & Brains.
All is peaceful between the zombies and the humans of Quirkville . . . until an unexpected alien invasion causes widespread panic and chaos! As the aliens run rampant, demanding something mysterious in their alien language and coating the town in cosmic grape jelly when they're not understood, the mayor declares a state of emergency. Once again, Reginald the zombie comes to the rescue, bravely suggesting that the seemingly evil aliens try pairing their jelly with some of his favorite peanut butter. Despite their differences, the residents of Quirkville, the zombies, and the aliens work together to create the greatest sandwich in the universe! Full of lots of humor and heart, this entertaining sequel to Peanut Butter & Brains will satisfy readers who are craving more.

Event date:
Sunday, August 27, 2017 - 12:00pm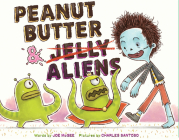 $16.95
ISBN: 9781419725302
Availability: Usually Ships in 1-5 Days
Published: Abrams Books for Young Readers - August 29th, 2017
---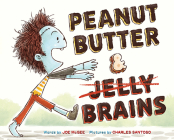 $16.95
ISBN: 9781419712470
Availability: Usually Ships in 1-5 Days
Published: Abrams Books for Young Readers - August 11th, 2015
One of our TOP PICKS! Adorable, loveable, like no other Zombie tale!
---